Shopping Cart
Your Cart is Empty
There was an error with PayPal
Click here to try again
Thank you for your business!
You should be receiving an order confirmation from Paypal shortly.
Exit Shopping Cart
On May 20, 2022, we looked at Sun in Gemini or strong characteristic within the birth chart linked with Gemini.
On Wednesday, May 25, we focused on some of the influences affecting those with their Sun in Gemini or strong characteristics tied to the Ascendant or other placements in the sign of Gemini. We will, of course, have to find the placements by degree of each planet or angle involved to get a clear picture of how these energies will affect the chart.
Today we will continue this focus as there are many planets affecting Gemini currently.
As mentioned in our last post Mercury moves into the Sign of Gemini on or about June 14, 2022 and Venus will move into the same sign on or about June 24. Mars then moves into Gemini on August 21. As you can see those with the Sun or planets and angles in the sign of Gemini will be powerfully exposed to these energies. Conjunctions shape energies, so you will have to take into consideration what the blended energies will suggest and the houses involved, as these are the areas of life involved.
T Mars moves into the sign of Gemini on August 21 and remains until March 23, 2023, due to its retrograde motion. Mars is about energy and drive and often suggests advancement or aggressive push to reach what is being sought out. Eg If this conjunction takes place in the 2nd house finances and security issues may be present. If the 9th is involved you may feel the desire for long distance travel, or to learn more about life's philosophies or religious matters.
T Jupiter moves into the sign of Aries on June 11 making a sextile to placements in Gemini suggesting that opportunities may be present. Growth and expansion may be highlighted. Eg This may involve groups, organizations and friends if the 11th house is involved or if the 3rd is involved perhaps this speaks of speaking engagements, or if the 9th continued education
T Saturn is in the sign of Aquarius and remains there until March 2023 making a trine to this positioning perhaps suggesting building a more solid structure in your life that endures the test of time especially if this involves the 10th or 4th houses. Perhaps this has to do with your health and your working environment or co-workers especially so if the 6th house is involved.
Once again, these energies are positive in many cases but what we do with the energies provide is what sets life in motion. In many cases if we just sit back and do nothing very little unfolds. It is always in our best interest to take advantage of the energies suggested by the transits in place.
Happy solar return, Gemini!
Please do not comment on this post. We do not receive notifications. If you have comments or questions please send us a message via www.holmastrology.com/contact-us Thank you.
Holm Astrology also offers individual intuitive readings or group parties. For more information, visit us at www.holmastrology.com/intuitive-readings
Are you interested in learning Astrology. Holm Astrology offers Astrology courses. Watch for announcements for registrations in the fall. Visit www.holmastrology.com/astrology-classes for course details.
Please "Like" us on Facebook. Your "shares" are appreciated and your questions are welcomed.
If you have confidential comments or questions, or if you would like to speak to us concerning the preparation of a chart, please visit www.holmastrology.com/contact-us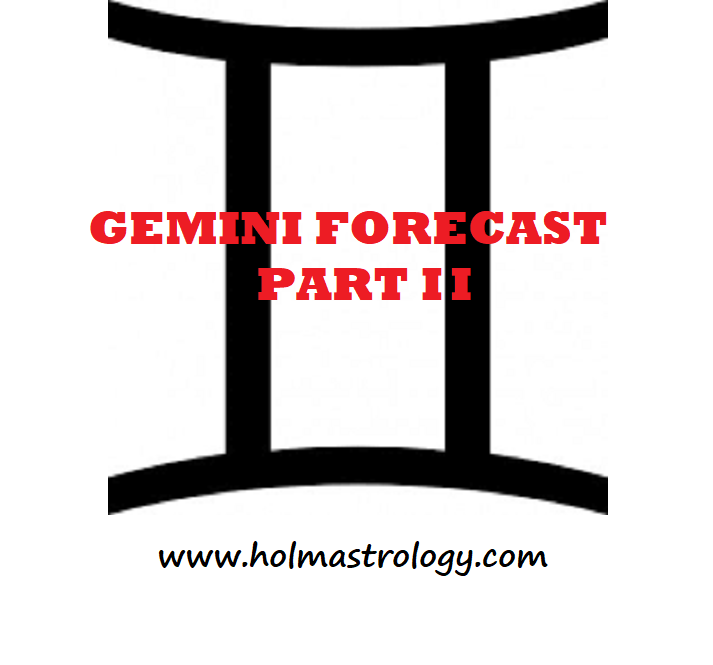 Categories: Astrology
/